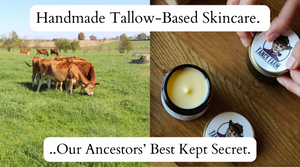 Take Back Your Health From The Modern Skincare Industry.
Ingredient lists that sound like a different language. Harmful preservatives that allow a product to sit on a shelf for months, or even years, before being sold. Promises of long lasting nourishment but left with short term results. Synthetic chemicals. Fillers. Stabilizers. The list goes on.
Our goal is to do things differently by making your health and wellbeing our highest priority.
Here at Fancy Farm we only use nourishment provided by nature, labels you can understand, and traditional ingredients that work.
Our Ancestors Best Kept Secret.
I know what you're thinking... Huh? Fat on my face? We were skeptical at first too! But hear us out.

Applying healthy animal fats to the skin is no new concept. Animal-based skincare dates all the way back to the 4th Century BC! Throughout history, the Egyptians, Babylonians, Australian Aborigines, Inuit, Native Americans, and the Himba and Hamer tribes all used/use animal fats to nourish the skin. Even today, doctors frequently prescribe Lanolin (or sheep fat) to soothe problematic and severely dry skin.

Our ancestors didn't need textbooks or science to be convinced Tallow works! They followed tradition, intuition, and instinct. Only now, we have the science to show why this single ingredient is so incredibly effective.Our skin produces this stuff called "sebum."

Sebum is an oily waxy substance primarily made up of, you guessed it.. fat! This fat, or sebum, is what our body uses to keep our skin barrier healthy, hydrated, and youthful-looking. 

Tallow is the closest substance on earth to the sebum our skin naturally produces, it's practically bio-identical. In fact, the word "sebum" in Latin literally means "tallow" in English! This close resemblance enables Tallow to easily absorb into the skin and work with our oil's on a cellular level. Unlike modern plant-based/petroleum based moisturizers that, most often than not, create a thin layer over the skin barrier which risks smothering the skin.

Tallow gets even better. This super fat is loaded with fat-soluble vitamins and beneficial fatty acids (BFA). Vitamins A, D, E, and K are all found in Tallow. These vitamins repair and rejuvenate the skin. The wide array of BFA in tallow has proven anti-aging benefits, fights redness, and soothes inflammation. As we age, we lose up to 50% of the naturally occurring BFA's found in our skin!

Last but not least, Tallow is extremely shelf-stable. Without the help of harmful preservatives, parabens, or synthetic lab-made chemicals. This makes tallow a truly unique, safe, and all-natural substance. Gentle enough to use on babies and newborns. An excellent choice for problematic skin (rosacea, eczema, or psoriasis) or just as one heck of a daily moisturizer. Tallow is one ingredient, but packs a huge punch of skin nourishment!

At Fancy Farm, we're all about learning from our ancestors' intuition and wisdom. Simply put, Tallow is our ancestor's best-kept secret.
Shop Now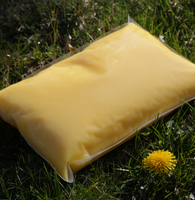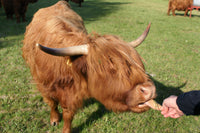 Let us do the sourcing for you!
What makes us different is the quality of our Tallow. Here at Fancy Farm, our Suet Tallow comes from a small family-owned Organic Biodiversity Farm. Mike and I drive to our local farm every two weeks to pick up our freshly rendered high-quality Tallow. This is to ensure the product we send out is as fresh and nutrient-dense as possible. (Our goal is to provide you with the same quality you would get if you drove to your local farm and picked up Tallow yourself!) We use the Scottish Highland breed of cattle that live their entire lives on lush pasture under pure sunlight. A healthy, well-cared-for animal directly contributes to our Suet Tallow's vitamin-rich content. Better For Your Skin. Better For The Environment.
Shop Now
Real Bulgarian Rose Oil.
Don't get it twisted! This isn't "Rosehip" oil (Rose Oil's much cheaper cousin and commonly used in skincare for its affordability.) The Bulgarian Rose Oil used in our products is the real deal, and comes directly from Bulgaria. Home for producing the highest quality Rose Oil that money can buy!
Shop Now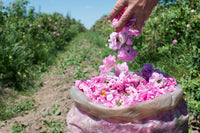 Handmade in Small Batches.
Each product is handmade, hand labeled, and hand sealed by us the owners! This ensures maximum freshness and allows us to consistently produce top notch creams every time.
Shop Now
Our Promise.
"At Fancy Farm, your health and wellbeing is our utmost priority. We combine the power of animal-based nutrition, ancestral wisdom, and the very best of what the plant world has to offer into a simple yet effective recipe. We only use non-toxic, preservative free, synthetics free and paraben free ingredients. Combined by hand and made fresh to order."
- Andrea & Mike | Owners, Fancy Farm Skincare
Shop Now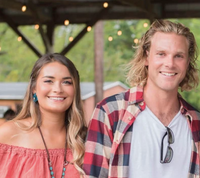 Really Rose Face Cream Reviews